Ergohuman All Mesh
Black frame with black mesh on back and seat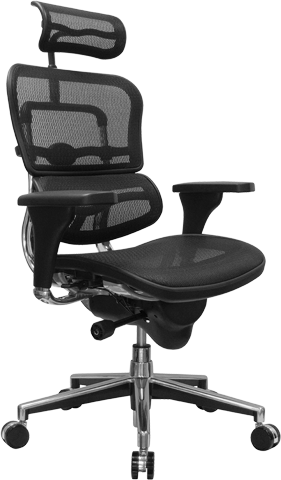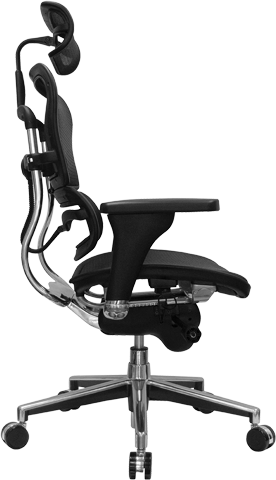 Home Office
Working from home has the same requirements as the office. Lizell sales consultants can space plan and design wit your needs and home décor in mind.
Workplace
Quality furniture solutions for all business, home office and institutional environments.
Reception & Lobby
First impressions are paramount, since they imply, in the client's mind, what goes on behind the scenes. This is why your organization's reception area must reflect your credibility, your reliability and most of all, your professionalism.
Tables & Multiconferencing
The outcome of a modern vision of what furniture should be, our table and multiconference collections redefines the word "versatility". Our tables are completely adaptable to new office technologies and are available in a wide variety of finishes, sizes and shapes. It is up to you to unlock their potential.
Desks
Lizell offers the widest collection of desks to meet the needs of todays workspace requirements considering design and function supporting good health whether it be for business, home office, healthcare and educational environments.
Seating
Based on your needs, Lizell offers innovative, comfortable and functional seating solutions which promote good health.
Education
We offer a complete range of products covering the full needs of teaching establishments. Our THINK SMART furniture collection consists of an extensive range of modular components that fit seamlessly with each other in order to offer solutions to furnish reception/waiting areas, administrative offices, cafeterias, locker rooms, computer labs, etc. All our products can be customized to your criteria.
Healthcare
Lizell presents a complete offering of evolutive furniture and 100% reconfigurable modular casework solutions designed and manufactured with exceptional care to cover the full needs of healthcare establishments, from hospitals to long-term care facilities and clinics of all types.
Accessories
Lizell offers a wide selection of accessories including keyboard and monitor support arms, lighting, chair mats and more.
Filing Storage
The quality, the flexibility and the wide choice of colors and options of the metal and laminate Storage Collection are sure to meet any storage needs. Products are available in several sizes and in a variety of trendy colors.
Explore
"In healthcare, we often have complex purchasing projects that involves multiple decision points and thus lots of questions, differing opinions and last minute unexpected changes that could easily frustrate any vendor. Lizell takes these challenges in stride and does everything to get it right, which we really appreciate."
"We have worked with Lizell's on various office remodel projects during the past 10+ years. We have always been extremely pleased with everything that they have provided for us. They are so professional, answer promptly and are always willing to go the extra mile to make sure they are meeting our needs and expectations. Whenever we are in need of office furniture, Lizell is my first phone call!"
"The thought of re-designing a workspace was overwhelming. From my first contact with Lizell, I knew I was in good hands. Their knowledge and expertise were extremely helpful and he was able to bring my vision to life. The installers were friendly and professional and completed the install on time.Our experience with Lizell was amazing from start to finish!"
"Elevate Healthcare has been purchasing office furniture from Lizell Furniture for the last 4 years. The quality of their product and especially the service is impeccable! Our sales rep, is so helpful and extremely accommodating. He is always available to stop by our office to help me review, measure and even design the perfect environment for our staff. It has been wonderful having such a great partner! We look forward to continuing this partnership! "
"I just wanted to thank you for all your help with my recent purchases of office furniture from Lizell's. From my first visit when you helped me pick out the perfect cubical panels to the purchase of my new executive desk system, to the final item, the glass chair mat, you were very helpful and welcoming. Your pricing was more than fair and I am extremely happy with all of the items I bought from Lizell's! I am very happy I decided to choose Lizell and I will definitely be back when I have a need for anything for my office. "
"We were happy with the service and overall installation from Lizell. Furniture is of excellent quality and the layout works well for our offices. "
"We have had a longstanding business relationship with Lizell. Lizell has always been responsive and receptive to our needs; always presenting options and keeping within our budget. Their Team and Installers are a pleasure to work with!"
"We have been doing business with Lizell for close to 40 years and have never strayed away…that should say it all. If you are looking for a professional team that will handhold you through making the proper choices for your office, look no further. The quality of their products will speak for themselves. We had a cubicle system installed by Lizell in 2005 and it still looks brand new. Whether we are in need of one item or 25, or require help with office design ideas, all I have to do is call our dedicated Consultant who made sure to accommodate our needs in every way possible. Mike and Lizell have never disappointed us. Thank you!"
"I was pleasantly surprised when I called earlier regarding the problem with the caster wheel. Though it's been over 2 ½ years since the order was placed not only did you jump right on it to get us a remedy, but you even remembered the original order! We remain so pleased with the way everything turned out. Had you not worked with the manufacturer to get them to make customized sizes to fit our limited space--within our budget--I wouldn't have a layout that not only lets us work comfortably, but one that also looks so sharp."
"Univest has been working with Lizell for over 42 years. Lizell has supplied office furniture and cubicles for Univest corporate headquarters, Univest Insurance and all our branches. Their team of furniture consultants, design and installation are highly professional, suppling us with quality furniture including specialized seating and custom designs. I highly recommend Lizell for any office furniture project."
Latest happenings and interesting articles that can help you choose the best furniture for your office and home.
Neuroscience can reveal much about the secret inner workings of the human brain—and now, it has set its sights on...